Texas at its Best-Bradshaw



Bradshaw at the New York Stock Exchange

Welcome!!
Welcome to my site!!
This site is dedicated to my favorite WWF wrestler, Bradshaw of the APA. I have been a fan of wrestling for over 15 yrs. and I am thrilled to start my own site.
If you also have a wrestling site please add your link on to my link page, and don't forget to sign my guest book and take the poll.
I have tried to make this site as serious as possible, I won't constantly mention how gorgeous I think Bradshaw is (though I do think he is very sexy!)
I do, however, want to give you facts and other information that gives you better respect, and knowledge about this very tough, and intelligent man, whose many talents have yet to be utilized.
When he gets the push we all know he's due for, I want as many fans as possible cheering him on, along with me his #1 Groupie.
Last updated July 27, 2001.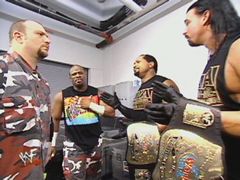 3 Time WWF Tag Team Champions the APA
(WWF gold, a great accessory for any ensemble.)

InVasion
InVasion was a great PPV. The APA match was terrific and of course they won, as if anyone should ever doubt their very fine capabilities.
The Jeff Hardy/Rob Van Dam match was great , it kept my interest up for the whole match, and the Tajiri /Tazz match was fun to watch, so was the E&C/Awesome/Storm match(cept for that one little oopsie Christian had.)
I was a little disappointed in the Regal/Raven match it did not live up to the potential it had, and the 6 man Tag match was also a disappointment.
The ten man tag match was everything it should have been.....right down to Austin helping the WCW/ECW win.
I know as a fan of the WWF I should not have liked it, but as a fan of Sports entertainment and wrestling, it leaves room for more angles and story lines.
Angle showed once again what a great athlete he is, along with Jericho, Kane and Taker, no matter what happened it was a great PPV.
I loved the whole F'N show!!
And I am gonna watch it again!
Click herefor more on InVasion.

Tough Enough
Fifth episode
It was rather sad to see someone as sweet and determined as Shadrick get voted out of Tough Enough, but It had to happen to someone.
Jackie had me tearing up a bit, seeing her cry probably made others realize the WWF Superstars are human and do have emotions, and that they have hearts too.
From now on it's gonna just get harder, most everyone left is likable and all are going to be hard to choose from.
My picks for the winners....
Maven is one interesting fella, the fact that he had no qualms about winking at Jackie made him my number one choice for male contestant/competitor, I have no doubt he has the right attitude, and his physique is quite, umm, impressive.
Greg is my second choice, he seems to truly have the heart and will to go far.
Paulina is my choice for female contestant/competitor, her size is a definite advantage but I really like her personality she seemed much more down to earth and very easy to like.
Taylor is one tough girl so I would not mind her winning, she is exactly what the WWF should be looking for.
But the following weeks will tell who has the drive and stamina to succeed.