Texas at its best-Bradshaw


This-n-That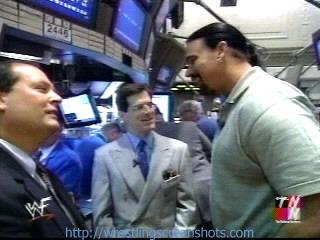 Bradshaw at the NYSE (New York Stock Exchange.)

Appearances
Bradshaw and Faarooq will be signing autographs in Brooklin, New York on
August 11th from 2 to 4 pm at Fun Time USA at 2461 Knapp St.
(If you go...GET ME ONE TOO!)
The WWF is going to be in Grand Rapids Michigan on August 28th for Raw, and hopefully I will get Tickets!!
( Pray that the APA are on the card, for my sake!!!)
Smackdown Your Vote!
The WWF and it's partners for Smackdown Your Vote! are continuing and expanding, thier efforts to register young voters. Linda McMahon, CEO of WWFE, announced that there will be registration tables at vertually every live event, now through the end of November. People would also be able to register at WWF New York.
The APA, who were also present at the time, commented, "It's real simple," said Bradshaw. "If you want things to change, you've got to get out and vote."
" This is the way for your voice to be heard." Faarooq adds

News
Bradshaw is well known for his interest in the stock market and he has been seen quite often on TV dishing the info about his favorite stocks. He says he became interested quite naturally because his father was Chief Financial Officer of a Sweetwater, Texas Bank for two decades. He has made apperances on WWOR-TV in NYC, and Squawk Box on CNBC.
Bradshaw was on Squawk Box once again on June 26, 2001 making this, if I am correct, his forth appearance on the show.
He discussed his top stock picks, which included WWFE and Pfizer,"since I know alot about surgery and pain pills" He said.
He also talked about his book which is written entirely by himself and due out early next year. The hosts all agreed that he explained things more clearly than most, "He's had experience explaining this to other wrestlers" was one hosts comment.
I'm not sure I like that last comment, Bradshaw is not the only intelligent wrestler there is in the Sports Entertainment industry, and I am sure more than a few of them would not appreciate it.

Rumors
The following was sent to me by a friend of mine:
Many wrestlers believe that the Acolytes were given the WWF tag team championship as a political move to keep them happy because the word is that the Acolytes, along with many other mid card wrestlers, were disappointed at the ECW invasion angle and the fact that their TV time was being given to others. WWF management contends that the Acolytes were given the belts only because they had to take them off the Dudley Boyz, who were involved in the main event angle
Can you believe this crap?
Not that they deserve them, just to make them happy.... What a bunch of bull****!!!!!!!. I hope they don't lose the titles as fast as they won them to WCW or ECW.........(Mike)
( His comments Not mine, though I am thinking about the same thing! My comments are below.)
Funny how the Fans are ALL behind the APA, and are glad to see them with the titles.
All I hear are POPS when they come out to the ring, I have yet to hear any boo's.
When you hear rumors about the ego's of WWF Superstars, how often have you heard Faarooq or Bradshaws names mentioned........never.
Thats because they are down to earth sweet men, not ego maniacs.
They deserve those titles and should have gotten them sooner.
And, if you remember correctly, before the WCW/ECW angle we were NOT seeing a whole heck of alot of the APA.
So I thank the WWF for the whole WCW/ECW angle, cause it's keeping the APA busy and where I want them.....on my TV! They work harder than alot of the other wrestlers and rarely get anything for it.
And I for one am Happy that they've finally gotten the Tag Team belts, and I hope they keep them for a very long time!!

Tidbits
John Layfield (Bradshaw) won the long-drive contest with a drive of more than 340 yards at the Sgt. Slaughter Charity Golf Tournament.. Layfield said he had one longer, however, it was out of bounds and didn't count.
Ironically, the former LA Raiders lineman received an autographed photo of former Miami Dolphins quarterback Dan Marino for winning the competition.
Later that night he finished off a 48-ounce steak to win an autographed photo of Don Shula.
Click here for more info:


Important

"Our acts our Angels are, or good or ill, our fatal shadows that walk by still."
John Fletcher